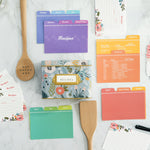 Recipes are our way of passing down family traditions, flavors and stories. They help us to remember cherished memories, celebrate holiday traditions and to honor those that we've loved and lost. It's no surprise though that in our digital age we've stepped away from the art of creating an organized system to document, store and use these recipes on a regular basis. Laptops crash, websites come and go, and mom may be too busy to pick up the phone to recite grandma's spaghetti sauce recipe again. That's why the best way to keep your cherished recipes organized and always at the ready is with a classic recipe box and note cards.
There's just something special about a recipe box that can't be duplicated. Printed recipes feel impersonal, and don't always allow for your added or substituted ingredients. Copied recipes on scraps of paper also have a tendency to become lost in the junk drawer. However, indexed note cards, like this lovely printed set can help you document exactly what steps you took and the ingredients you used, keeping everything legible, neat and tidy. Use these cards with a set of tabbed and labeled recipe dividers and you'll be able to clearly locate your favorite casserole or punch recipe with ease. Worried about spills and smudges? Cover your cards in these protective recipe covers and you'll keep your cards looking pristine through the years.
Once you have your recipes neatly written and encased in a sleeve, keep them safely stashed in an adorable matching tin for the ultimate in organization. Recipe tins offer a hint of vintage charm to your kitchen décor and look sweet on a window ledge, countertop or bookshelf. Plus, since you'll love to display them, they won't be hidden away and you'll always have your favorite recipes at hand. When you keep your recipes organized with a classic index cards and tin system, you'll not only be saving yourself time and frustration, but you'll be cultivating a family heirloom that you'll be proud to share.