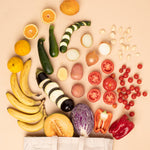 Whether your family is trying to stay on a budget, focusing on eating healthier meals or if you just want to simplify the day-to-day process of getting everyone fed, planning is always the key. We all go to the grocery store with the best intentions of buying items to create delicious, nutritious meals, but without proper planning, it's easy to come home without everything you need. If you've been looking for a way to get your family meal planning back on track, check out these essential tips to make feeding your crew a breeze!
Take Inventory
Before you hit the store, open up your pantry, cabinets and fridge to make sure you have everything you need. If you're out of essential cooking items like oils and spices, be sure to add them to the shopping list first. We like to use this weekly meal planner and grocery list (link https://www.jotandmark.com/products/jot-mark-weekly-meal-plan-and-grocery-list-magnetic-meal-planner-and-shopping-list-for-busy-families-one-pad-of-52-pages ) to help make sure every item you need to create favorite family meals makes it through the checkout line. When you decide what you want to eat for the week, simply write it into the assigned day and add the ingredients to the shopping list at the side of the pad. Easy!
Cook or Bake in Batches
Planning your meals for the week is less stressful and time consuming when you cook or bake in batches! Consider the types of food you or your family enjoy eating and see if they can be prepared ahead of time. Breakfast burritos are a great option that are easy to freeze, as are casseroles and muffins. Soups are also simple to prepare in big batches and can be eaten all week long. You can also prepare servings of protein to add to salads or sandwiches through the week for healthy, efficient meal options. Be sure to note what you've prepared on a calendar so nothing goes to waste, and to help provide variety through the week. We like this erasable magnetic meal planning calendar (link https://www.jotandmark.com/products/weekly-menu-planning-magnet-kit-kitchen-meal-planner-and-grocery-list-notepad-with-10-bright-color-dry-erase-markers-cleaning-cloth-and-magnetic-holder-for-refrigerator) to help keep track of everything you have prepared. Never hear them complain that "there's nothing to eat" when they open the fridge again!
Plan Ahead for Fun
Taco Tuesday, Waffles Wednesday, Fry-Day Friday … you get the gist! Make meal planning fun when you let your littles choose when to eat some of their favorite foods. Whether it's pizza on the weekends or special occasion meals once a month, planning ahead for these treats on a calendar makes spreading out the goodies simple and accessible. We like this pretty paper weekly meal paper pad with enough sheets to get you through the year
(link https://www.jotandmark.com/products/jot-mark-weekly-meal-planner-pad-50-sheets). It's a great way to keep track of what your family wants to eat and when!
If you're ready to simplify your meal planning process, give one of these essential organizational options a try. By taking just a few minutes to jot down your favorite dishes and plan ahead, you'll be sure to save time, waste less food and feel better about family meal time all year long!