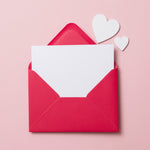 Birthdays, holidays, special occasions … it seems like there's a greeting card for almost every major life event! Unlike an email or a typed letter, greeting cards occupy an extra special place in our hearts, and giving one is just as rewarding as receiving one. That's why keeping a stock of cards at hand is essential for those of us that love to send heart-felt greetings, but who also don't want to run out to the store for every occasion. If you've been looking for a better way to organize your accumulated collection of various greeting cards, read on, and we'll share our expert tips to make sending off thank-you's and sentiments stylish and easy.
Find an Attractive Storage Box
When life gets busy it can be easy to forget where you keep everything, or to let events on your calendar creep up on you or pass you by. That's why it is important to keep your greeting cards in an easy to access space to quickly find the right card for all of your last-minute needs. We love this little floral tin (link) designed to fit up to 70 greeting cards and envelopes in a cute, contemporary print that is sure to look great on a desktop or shelf. With so much room inside, this storage tin ensures you'll have a place to store your stack of cards with room leftover for more.
Divide and Conquer
Once you've scored a stylish storage box and rounded up all of your loose greeting cards, it's time to organize! This floral tin also comes with a set of pre-printed colorful tabbed dividers like Birthday, Get Well, Congrats, Baby, Holiday, Wedding and more, as well as blank tabs, to help you easily find exactly what you need. Storing your cards this way will also show you which cards you need to stock up on; for example, you might find that you have a large number of birthday cards but not many thank you's. Expert tip: Keep postage stamps, stickers and other small notions you'll need in your greeting card tin as well to have everything you need to send off your greeting all in one place!
If you're sick of staring at a mess of loose cards and envelopes in your desk drawer, take the time to get your greetings organized. Sending off sentiments is always less stressful and more rewarding when you always have everything you need right at hand!