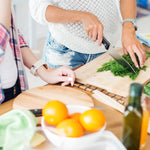 Family recipes and traditions around food, flavors and ingredients are an essential element to telling the story of your life. Spices from a relative's home country far away, unique ingredients added to a casserole and traditional holiday dishes all add to the narrative of who you are, where you've come from and even where you're going. And while you or your grandparents may know a particular recipe by heart, it's always a good idea to mark down these traditional flavors and tales for future generations to enjoy. However, finding the best way to organize and always have these recipes at hand can be a challenge if you don't know where to begin.
Recipe boxes and cards
are a classic and accessible way of making sure your home recipes are protected, utilized and displayed. Choose
a recipe box with matching recipe cards
in a cheerful print to match your personality and style for the perfect place to create a file of all of your favorite dishes.
Protective sleeves
are also recommended for keeping your recipe cards safe from splashes of sauce and sticky fingers while you're using them! Keep your recipe box on a shelf, ledge or easy to access counter in the kitchen so you'll be sure to reach for your recipes again and again.
Another great way to catalog your family recipes is with a dedicated recipe binder. Recipe binder kits with matching recipe cards and protective sleeves are like creating a cook book and journal all in one! And since it's easy to customize, you can even add photos, packaging labels and other small recipe-related mementos to your binder kit for the perfect personal touch. Don't let recipes on loose scraps of paper linger in a forgotten drawer or stay filed away on a hard drive somewhere; take the time to enjoy reliving your favorite family food memories and preserve your recipes in style!